Shipping charges are based on the item's weight to anywhere in the US (lower 48 states) and typically ship via FedEx Ground. If you have any questions about any of these shipping services please contact us before buying your item. Important to Note: Any un-delivered item ordered from Burromax.com will be charged for all incurred actual shipping charges if delivery is attempted and refused or if delivery is not possible.
Our Shipping Pledge:
Once your order is paid for, it will be processed (and prepared for shipping) as soon as humanly possible! If your order is in stock and placed before 2pm, it will ship that same day. We do not ship on weekends or holidays. If you place an order on a Friday morning before 10am, the soonest it will arrive is Monday. All of our products are shipped with great care to minimize shipping damage.
Free Shipping Offers
Offers, promo codes & specials that offer free shipping can either be based on shipping cart subtotal or shopping cart total items. Unless specified, all free shipping offer orders will be shipped either GROUND or POST OFFICE MAIL service which can be 2-7 business days. Please refer to 'Total Delivery Time' below for additional details on delivery transit time.
Tracking Your Order:
FedEx allows you to track your order at the click of a mouse. When your shipment is paid and shipped, you'll receive a tracking number to your E-Mail address given at registration to alert you that your item has shipped.
Domestic Shipping:
Within the lower 48 United States, we offer shipping to any location (Excluding AK, HI). We are unable to ship to PO (Post Office) boxes, APO (Military) boxes or FPO (Foreign Post Office) boxes.
International Shipping:
We are unable to ship internationally at this time.
Total Delivery Time (In Stock Items Only):
Order processing (same day) plus Carrier Shipping Time (in business days)
For example, if your transit time is (2) days, the item you have ordered is in stock and you place the order before 2pm on a Monday, your delivery day will be Wednesday. If you place the order after 2pm on Monday and your transit time is (4) days for an item in stock, the item would be delivered on the NEXT Monday. Please see our Map to see your transit time.
Please note that shipping times are stated in business days, excluding weekends and holidays. Additionally, we require one business day to process your order for shipment. The shipping time shown is the time it takes FedEx to deliver the product to you after we process your order.
*Shipping Packaging Policy
Due to the rules and regulations set forth by Fedex, all Small Pack Ground/Air packages must be shipped with at least 2" of interior foam/bubble wrap or paper packing material. Therefore, your new item may be opened in order to add this additional packaging material before shipment. This no way affects the warranty or condition of the unit being purchased. If you have any questions once the item is received regarding this shipping policy, please contact our customer service department.
*Holiday Delivery Times
Due to the holiday, Fedex Ground and Fedex Freight will not be shipping packages on 12/24, 12/25, 12/31 and 1/1. Please refer to the chart below. If you placed an order and the map shows a delivery date on the dates above, please add 2 business days for additional delivery. FedEx does not move packages on Holidays or Weekends. We apologize for the inconvenience.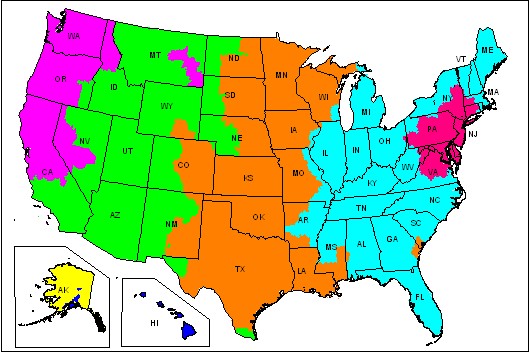 Shipping Address Requirements:
Your shipping address must match your credit card address(s). For your protection, we are unable to ship to alternate addresses if the name differs completely. We are also unable to change the address after payment. No exceptions.
Combined Shipping:
Shipping can be combined for certain items. Our shipping process is based on weight. The more you add to your cart the heavier it weighs. The shipping charge is calculated automatically. If you order more than one item, it may come in different shipments or all in the same. Some items may ship out of different locations; thus, certain items cannot be combined for shipping. There are many variables to consider when combining shipping. Your best option is to call us at 800-742-1189 to discuss your options if purchasing more than 1 product.